As if I hadn't already treated myself enough (seriously, I need to hide my debit card somewhere for the next few months), last week I flew out to Istanbul for a couple of days with some people from the school of arts at my university, in order to visit some of the historic sights, soak in some culture and do some generic touristy things as well. I've decided to write up a little account of the trip, which you can read below. Please excuse the lack of stageyness, but I just felt as if this incredible trip was worth a write up! My pictures were mostly originally posted on
Instagram
and more can be found there. (also, I'm new to Instagram and so I'm just getting used to it!).
Thanks guys x
Day 1
After a ridiculously long day of travel the previous day, we settled in to our hostel, the Sultan Hostel, and then having relaxed for a little while, we headed out into the city to visit one of the most iconic sight in Turkey, the Blue Mosque! It was an absolutely stunning building which dominated the skyline with its impressive towers and minarets. Inside, the Blue Mosque was decorated with beautiful painted ceilings and vivid red carpets. I felt very lucky to be standing inside such an ancient and important building filled with so much history.
After enjoying the Blue Mosque, my friend and I headed out in to Istanbul to explore. If history is your thing then Istanbul is a must-visit location. We worked our way around many museums and places of interest, and interestingly, many of them were free as well. Fantastic if you're hoping to see the city on a budget.
As the day progressed, we headed out to the famous Grand Bazaar, another must-see location located along a winding alley about 10 minutes walk from the city centre. The bazaar was entirely sheltered underground and was so huge that it almost felt like a city on its own! No matter what you're looking for, you are guaranteed to find it in the Grand Bazaar. I picked up a red and gold pashmina, a Turkish tea set and a couple of knickknacks for my family and friends. All in all, a brilliant shopping experience.
After a long day out in the sun, we headed back to the hostel and, having grabbed a bite to eat in one of the many tiny cafes in the bazaar earlier, indulged in some potato wedges (adventurous, I know.) We had intended on getting an early night, but once we rejoined the group, that all changed. Instead, we had a catch up over cocktails (I veered away from my usuals (mojito or daquari) and tried an espresso martini for the first time, which I very much recommend, particularly to coffee lovers!). We also tried the traditional Turkish Hookah (a smoking pipe flavoured with fruits such as apple or peach). As my friend and I were non-smokers, we only gave it a little go, an were both unimpressed, but when in Rome...or should that be Istanbul...
Significantly later than we had intended, we headed to bed.
Day 2
After a late-ish night, we gave ourselves a lie in in the morning, but desperate to make the most of our time in Istanbul, we set off just before midday, on a 2 and a half mile coastal walk north to the Galata Bridge, and then back via the Istanbul spice market. The spice market was a wonder we hadn't anticipated. The smell of herbs, spices and various other foodstuffs filled the air completely and honestly I wanted to buy pretty much everything I saw. Turkish delight, baklava, dried fruits, nuts and various different teas were also available to purchase. After hours of wandering I settled on some spices for my kitchen at uni (you've got to liven up the pot noodles somehow!) and a tea blend called Love Tea, which looked pretty if nothing else (it comprised of a number of different dried flower heads and smelled like roses! Yum!), then, exhausted from our trek, we headed back to the hostel.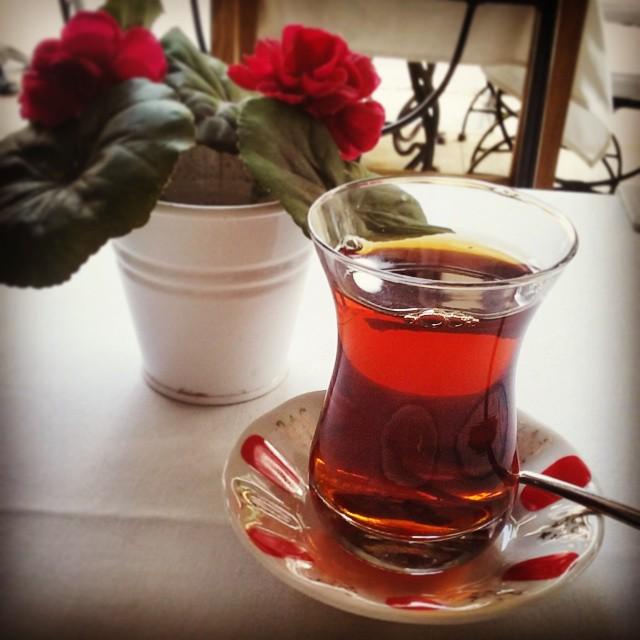 On the way, we spotted a lovely looking restaurant called the Palatium Cafe, where we stopped off for some food. Oh my gosh, we were not prepared for the deliciousness! We ordered a portion of humus, a portion of halloumi salad and a portion of vegetable couscous and spent
2 hours
eating it all! The couscous was particularly delicious, and unlike what we would consider to be couscous in England. It had an almost pasta-y flavour and consistency and was served in a vegetable sauce. Wow! I could eat it for every meal! The best part was, the meal only cost us 60 lira (about £16 between the two of us), and after the meal, our waiter showed us an amazing underground cavern which had only recently been excavated UNDERNEATH the restaurant we'd just had our meal in. It was unbelievable! Talk about luck!
We found ourselves in a bit of a food coma after that, so we headed to bed for an early night.
Day 3
We woke up early on day 3, and caught the tram to the TÜRVAK Cinema and Theatre Museum. We spent the morning looking at the headshots of hundreds of Turkish actors, and learning about the Turkish film and theatre industries. As drama students, my friend and I found this particularly interesting. Having looked around for about an hour, we headed out into the city and managed to get ourselves on a boat tour up the Bosphorus river for only 12 lira (£3) each. The tour lasted for 2 hours and was interesting and very picturesque, if a little bit long-winded towards the end. Having disembarked, we walked back through the city and found another restaurant to eat in. This one was lovely, as it was filled with beanbags which we sat on for the duration of our meal. I ate a fantastic spiced vegetable casserole, which was absolutely lovely.
As it began to dawn on us that this was our last day in Istanbul, we decided to do something we'd been wanting to do since the start of the trip...visit a Turkish bath! On the recommendation of some friends, we headed over to the Çemberlitas Hamami, which claims to have been built in 1584. We opted for the traditional bath treatment which cost us 95 lira (about £25).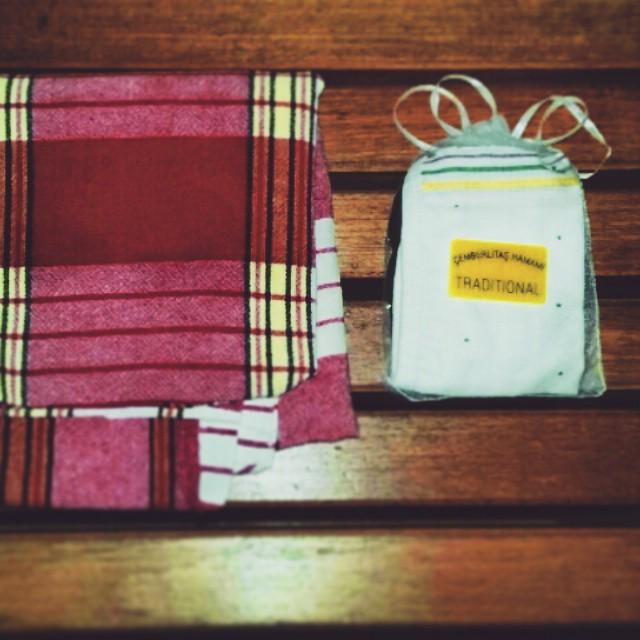 This was an unforgettable experience, and something you must do when in Istanbul. Dressed only in bikini bottoms (the idea of toplessness terrified me before we entered, but as soon as you stepped into the hamami and saw everyone was doing exactly the same thing and no one was blinking an eyelid the awkwardness dissipated), you lie down on a cloth, on a large slab of rock in the middle of a giant domed room. The room was heated to a very high temperature and was effectively a sauna. Having relaxed on the slab for about half an hour, one of the women who worked as a therapist/washer/masseuse tapped my ankle and it was time to begin the washing. First I received a full body exfoliation, then was covered in bubbly soap and scrubbed from head to toe. Then I was given a back, leg and ankle massage before finally having my hair washed. The experience was unlike any spa treatment I'd ever had here in England, and cost a fraction of the price of even a facial here! Feeling squeaky clean, I was directed towards a niche which contained cold water taps and little silver bowls. Here you are encouraged to dowse yourself in cold water, to wash off any remaining soap and cleanse yourself. My friend and I were reunited and spent about half an our here before leaving the bath. Outside, wrapped in our towels we were met by a woman who asked us what we'd like to drink. We opted for Turkish tea, followed by freshly squeezed orange juice. I felt totally relaxed and rejuvenated as we drank our drinks, and then finally dressed and left.
Feeling as relaxed and detoxed as we were, we opted to yet again have an early night (A wise choice given our impending day of travel) so we relaxed on some cushions in the hostel downstairs, before saying goodbye to Istanbul for the last time and heading to bed!
I had such an incredible time in Istanbul and I would honestly go back in a heart beat. We explored so much in our short time but I still feel like there was so much more to the city that we just didn't get round to seeing. I'll definitely be returning again at some point hopefully, but until then, I'm back in the UK, and back to the theatre! I've got so many
exciting shows to look forward to
and I cannot wait. 2015 has been pretty good so far and it looks like it's going to stay that way, for now at least.