Oh my goodness, it feels like years since I last stepped foot inside a theatre! Not as an audience member at least. I can't believe I haven't blogged since the 1
st
of March. However, although it was incredible, I
haven't
spent the last month-and-a-bit recovering from the awesome
Assassins at the Menier ChocolateFactory
(...
a few days, maybe!
) No, I've actually been quite busy as of late. Aside from the litany of coursework deadlines I've been faced with, I've also been performing in The University of Kent Musical Theatre Society's production of Cabaret as everyone's favourite lady of the night, Fraulein Kost, at the Gulbenkian Theatre in Canterbury. This was actually my first time performing with the society, and I couldn't have wished for a better show, or a more talented cast, to share my inauguration with.
Aside from that, I've also been writing a few articles for London Theatre Direct recently, which has been fun, particularly on
April Fool's Day
. However, being an hours train journey away from theatreland when it's so late into the term that you have to reconsider whether a pack of own-brand digestives is
really
necessary is
not
a healthy place to be. For this reason I've also managed to get myself a new job... kind of. It's a casual babysitting job, but every little helps at this point. Especially given that my trusty old mobile mysteriously disappeared on my walk to uni a few weeks ago, meaning that I've had to invest in a new phone too.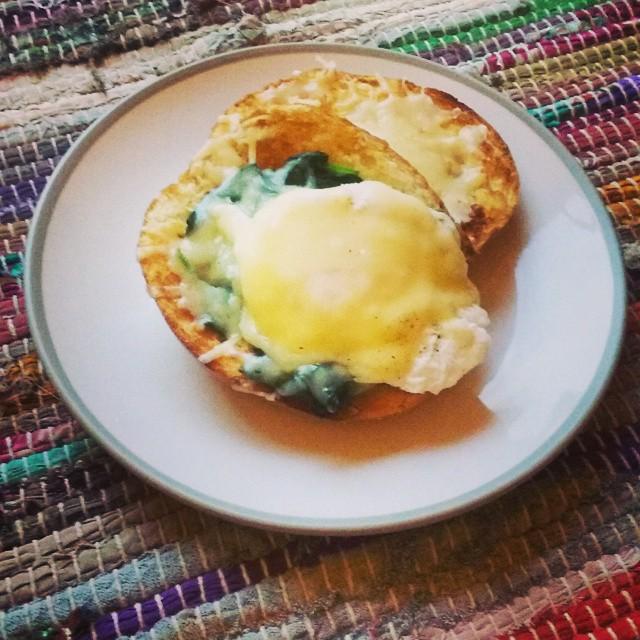 In a bid to keep me from splurging my last few pennies on theatre tickets (my local theatre is blessed with so many amazing touring productions that even if I had unlimited money there wouldn't be enough time to see everything I'd want to see) I've also been experimenting with cooking more adventurously, using a vegetarian cookbook which my mom bought me as a going-to-uni present last year. I've made some great meals (if I do say so myself) including couscous stuffed peppers, butternut squash enchiladas and my personal favourite, poached eggs Florentine with spinach and cheddar…on a bagel! Yum!
Thankfully though, I do have a couple more theatre trips coming up before the end of term. This weekend I'm off to see the West End transfer of Tooting Arts Club's production of Sweeney Todd in the pie shop on Shaftesbury Avenue, followed by the final performance of Made in Dagenham in the evening. I've also got a ticket to see Top Hat at the Marlowe Theatre, and finally I'll be dropping in to The Playhouse Theatre to see Woman On The Verge Of A Nervous Breakdown on my way home, although it stupidly hadn't occurred to me that I'd have my suitcase with me and I had to ring up the theatre in a panic to ask if there would be anywhere for me to drop it off. Thank goodness for the cloakroom!
After Easter I enter my final term as a first year student, so I've no idea what sort of stuff I'll be seeing. In a perfect world, I'd love to see the How To Succeed In Business Without Really Trying concert, starring Jonathan Groff, which is playing in London for one night only in May, and I'm also eyeing up High Society at The Old Vic and the UK tour of The Car Man, which my favourite ballet dancer Dominic North is due to star in. For now though, I am mostly looking forward to seeing my family for the first time since Christmas, and sheltering away from all shops/Starbuckses/ shows until the next student loan payment comes through, so I can stop worrying about money, pay my rent and then see what happens next!
"Soon, says a whisper, arise arise,tomorrow belongs to me..."
The lyrics to the final song of act 1 in Kander and Ebb's Cabaret are absolutely chilling!